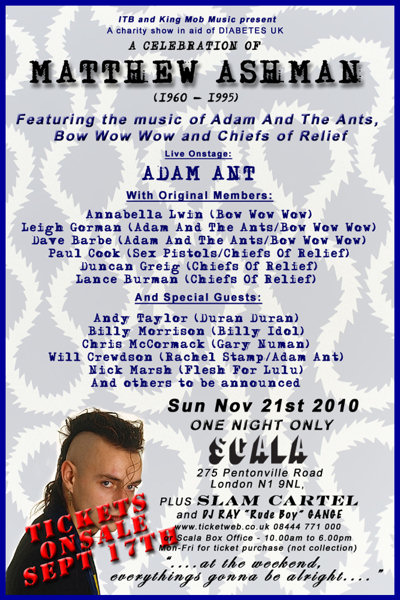 Every year in London we get a few one off special events that will probably never happen again and this was one of them. A celebration show for Matthew Ashman who died 15 years ago and who played with all the three main acts on tonight.
Up first are Chiefs Of Relief who have not played for at least 15 years.They feature Paul Cook on drums. Vocals were by Billy Morrison (ex The Cult now Billy Idol) who put this whole event together. It was a six song best of set that was superb. Paul's drum sound is loud and beefy and Billy does a great job with the vocals which have plenty of echo, just like how they were in the late 80s. Set was "Freedom To Rock","Looking For The Beach","Chiefs Of Relief", "White City Boys", "Weekend" and "Walkabout". Considering there was not much rehearsing it sounded mega....
Next were Bow Wow Wow who I think have not played for around 25 years ago. Singer Annabella Lwin has flown in from Los Angeles and still looks great. Again a six song best of set including "Aphrodisiac" and brilliant versions of "Go Wild In The Country", "I Want Candy" and "C30 C60 C90 Go". The last song was dedicated to Malcolm McClaren who of course discovered her.
Then to Adam Ant who was also close to Malcolm McClaren. He has been off the radar the last few years with mental health problems and this was his first official gig back after some secret gigs over the past three months. It was a full 12 song 60 minute set that is based on the debut Ants album from 1979 "Dirk Wears White Sox" which Matthew Ashman played on. For most Ants fans this album is their fave one.
Adam Ant looks great and seems very happy on stage. Set includes "Day I Met God", "Christian D'or", Catholic Day", "Whip In My Valise","Cleopatra" and "Physical". plus superb versions of "Car Trouble" and "Zerox".
Overall all three bands were excellent and it was a fantastic evening.
Review by Ray Morrissey
View a great set of pictures here [thanks Douglas @ TMFix]